Company Profile
Management Principles
We aim to win more trust and satisfaction from customers by contributing to the protection and preservation of the environment. To this end, we are continuing to further upgrade our technology, services and business operations.
Business Lines
Design & Manufacture of Machines


? Metal compressors ?Scrap shredders ?Combustible article cutters ?Car pressing machines
? PET bottle compactors ? Plastic compactors ? Waste paper balers ? Chip compactors
? Sludge presses ? Crushers & Shredders ? Waste sorting lines
? Others (hydraulic presses, forging machines)

Sale of Second-hand Machines
Machinery Repair and Adjustment Services


We also repair and adjust the machines of other makers.
Head Office & Factory No.1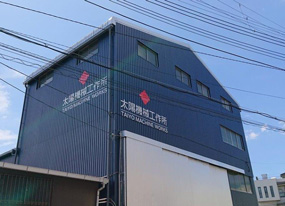 | | |
| --- | --- |
| Company name | Taiyo-Kikai Co., Ltd. |
| Address | 2-21-27, Kobayashinishi, Taisho-ku, Osaka |
| Chief Executive Officer | Hitoshi Yanagisawa |
| TEL | 06-6553-1110 |
| FAX | 06-6553-2220 |
| E-mail | info@taiyo-kikai.jp |
| Capital stock | JP Yen 10 million |
| Establishment | April, 1974 (Founded in March, 1969) |
Factory No.2
| | |
| --- | --- |
| Address | 2-21-3, Kobayashinishi, Taisho-ku, Osaka |
| TEL | 06-6553-1110 |
| FAX | 06-6553-2220 |
Okajima Factory
| | |
| --- | --- |
| Address | 5-8-12, Minamiokajima, Taisho-ku, Osaka |
| TEL | 06-6554-5555 |
| FAX | 06-6554-6677 |
Kyushu Branch
| | |
| --- | --- |
| Address | 3-2-3, Kirigaoka, Kokurakita-ku, Kitakyushu, Fukuoka |
| TEL | 093-931-2135 |
| FAX | 093-921-1302 |